The Pike County Conservation District has several publications available to help provide a healthy home and environment.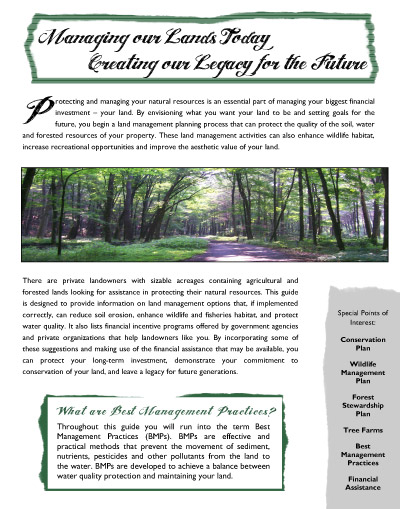 Managing our Lands Today — Creating our Legacy for the Future
The District, in cooperation with the Pike County Office of Community Planning, NRCS, DCNR, the Agricultural Land Preservation Board, the Scenic Rural Character Preservation Board along with the Pike/Wayne Conservation Partnership have developed a brochure outlining Best Management Practices (BMPs) that can be utilized in Pike County. This brochure also provides information on financial assistance that may be available for landowners to implement some of these BMPs.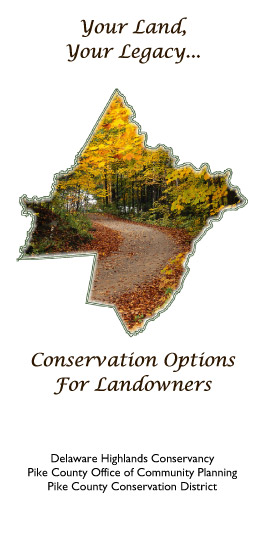 Your Land, Your Legacy
Conservation Options for Landowners
The District, in cooperation with the Delaware Highlands Conservancy and the Pike County Office of Community Planning, have developed a brochure on conservation options available to landowners in Pike County. The publication provides information in a clear, concise format that all landowners should find valuable.
The brochure printing was funded with a Environmental Education mini-grant from the PA Department of Environmental Protection.
EveryDrop Counts
Use a Rain Barrel
This simple guide provides water conservation tips and how by conserving water YOU contribute to the communities' natural resources! Every Drop Counts! Use a Rain Barrel brochure is a result of a 2014 Pike/Wayne Conservation Partnership DEP Environmental Education Grant. The project received a 2014 Northeast Pennsylvania Environmental Partnership Award for their work in environmental protection!