Much of the work of the Conservation District, whether educational, technical or administrative, is accomplished through collaborative efforts with state and federal agencies as well as local partners. The District is fortunate to have such a broad base of technical expertise and funding sources from which to draw for conservation programs that benefit Pike County. Below is a listing of just some of the many partnering organizations with which the District collaborates.
THE PIKE/WAYNE CONSERVATION PARTNERSHIP
The Pike/Wayne Conservation Partnership is an alliance of over twenty government, non-government, non-profit and grass roots organizations that work toward common goals for natural resource conservation, sustainable communities and citizen involvement in community planning in Pike and Wayne Counties. Find out more at the Pike/Wayne Conservation Partnership.

SCENIC, WILD DELAWARE RIVER TRAVEL GUIDE
Discover a hidden gem only a few hours' drive from New York City, Trenton, and Philadelphia—yet a world away. Explore friendly towns steeped in culture and history, nestled in a postcard landscape from a bygone era. Swim, canoe, and amble along a river that's carved a course through geologic time and human history.
Watch eagles soar overhead and deer roam through forests and fields. Enjoy waterfalls that make the heart leap, learn to catch a fish, picnic along the river's banks. Stay with us a while and savor the Scenic Wild Delaware River, where New Jersey, New York, and Pennsylvania meet. Find out more at Scenic Wild Delaware River.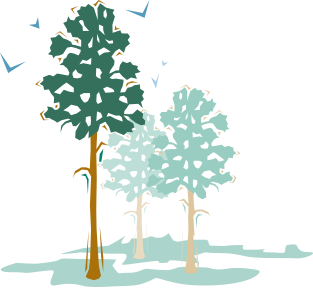 FACT
Just three trees, properly placed around a house, can save up to 30% of energy use.
WHAT YOU CAN DO
Plant and maintain existing trees on your property whenever possible. Trees protect your home from wind, reduce heating and cooling costs and enhance your property's value.