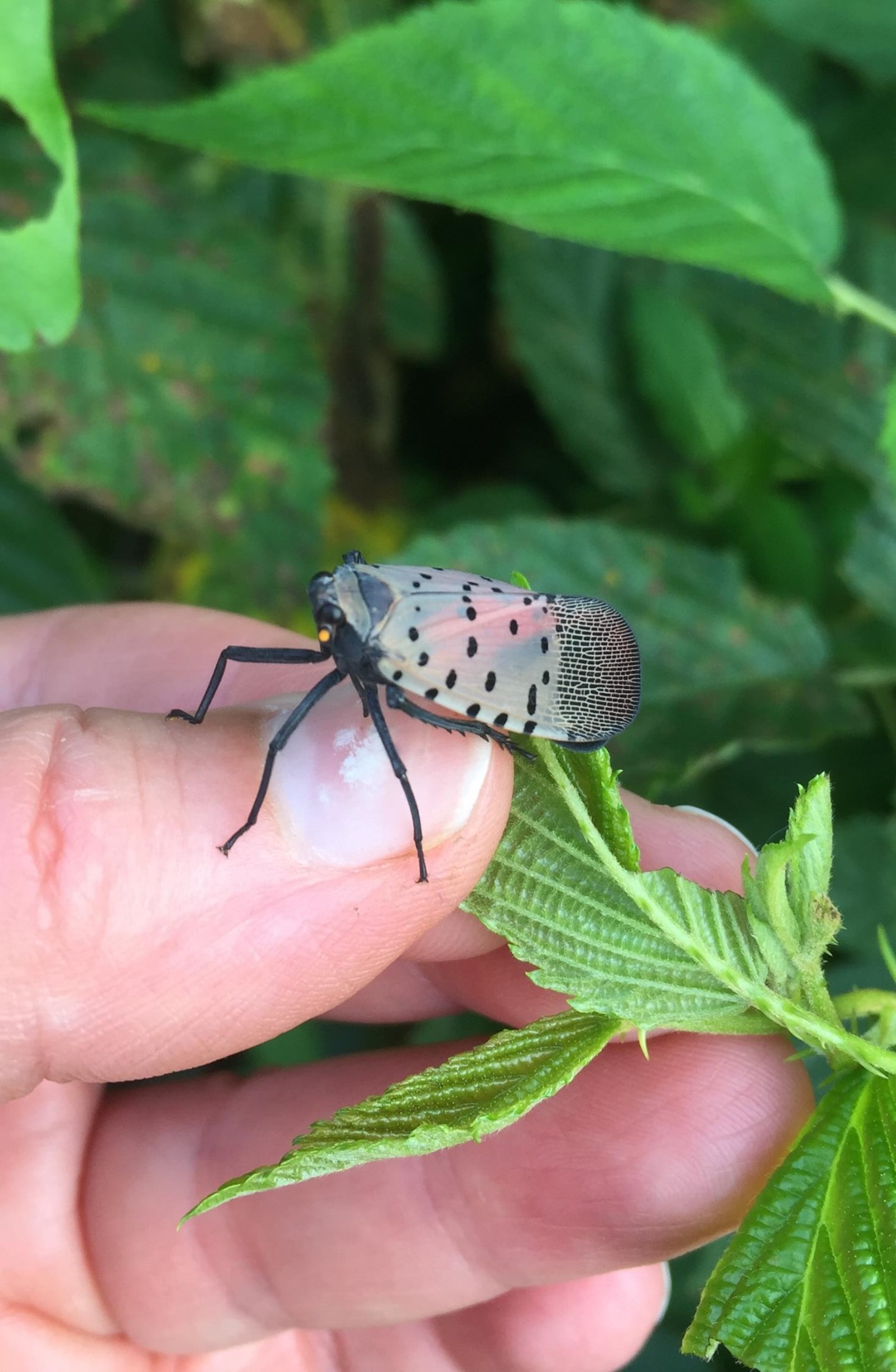 Spotted Lanternfly Updates – Summer 2022
As of 2021, Spotted Lanternfly (SLF) is officially in Pike County, PA. This means that this invasive species has been identified in the county, and Pike is now included in the quarantine map compiled and released by the Pennsylvania Department of Agriculture (pictured below). This means that this summer you may be seeing more Spotted Lanternfly on your property and in your communities than ever before.  
Spotted Lanternfly is an invasive species that was first identified in the United States in 2014, in Allentown, PA. It feeds on over 70 species of plants, including grapevines, maples, black walnut, and other important plants in PA. There is not currently a chemical treatment for SLF, and the best control method is manually crushing the insect when you see one, being sure that you aren't transporting SLF, and using traps on trees you want to save. You should be checking any vehicle traveling out of the quarantine area for eggs, nymphs, or adults of SLF. Adults are particularly skilled at sticking to vehicles, using highways and major travel corridors to move quickly into new ecosystems and habitats, looking for new food sources. Businesses regularly traveling out of the quarantine areas need permits for their vehicles. To learn more about how you and your business can comply with the SLF quarantine regulations, click here to go to Penn State Extension's guide. 
To control the insect in its nymphal stage, (pictured below) Pike County Conservation District (PCCD) has received grant funding for the purchase and installation of 26 Spotted Lanternfly circle traps to be distributed in Pike County Municipal Parks. There is also a trap installed behind the Conservation District and in front of the Pike County Penn State extension office in Milford. The circle trap (pictured below) can collect the nymphs as they move up the tree to which the trap is attached. The insects are funneled into a collection container, which allows for easy destruction and disposal of many Spotted Lanternfly nymphs. To learn more about the circle trap, how it works and how to make your own, click here. 
For now, the best control of the Spotted Lanternfly is to squish it at any life stage, trap it, and report it to Penn State Extension, click here to report. If you are looking for educational materials or readings on Spotted Lanternfly, check the PCCD's SLF webpage or call the Pike County Conservation District at 570-226-8220.