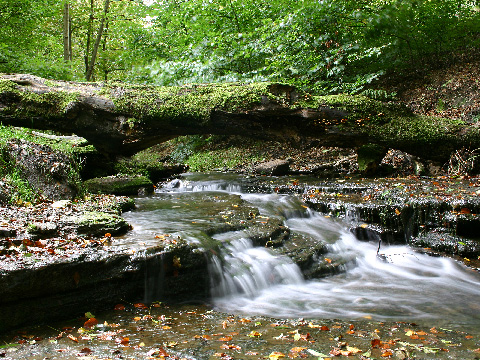 Tips for Maintaining Your Stream
Since many Pike County stream and river shorelines are privately owned, streamside property owners play a key role in the health of these resources both now and in the future.
Human alterations such as vegetation clearing, grading and excavation, and stormwater flow modifications can have major impacts to the stream and the stream floodway, which typically extends to 50 feet from the top of streambank on both sides of the stream.
If you are conducting earth disturbance activities near a stream, it is important to develop and implement an erosion and sediment control plan. This plan should specify best management practices, such as compost filter socks and immediate stabilization to minimize the potential for sediment from your site entering into the stream.
Sediment pollution, or dirt, by volume is the biggest pollutant to streams in Pennsylvania. It is often polluted further with hitchhikers such as fertilizers from lawns, and oils from roadways and parking lots.
Sediment, along with hitchhikers, can smother streambeds and disrupt the lives of aquatic plants and animals. Clogged waterways will increase the frequency and intensity of flooding, potentially causing property damage and economic losses.
Do You Need a Permit?
Working in or adjacent to a stream (typically within 50 feet) normally requires pre-authorization from the Pennsylvania Department of Environmental Protection (DEP) and the federal government. However, there are many actions that do not require DEP notification, pre-approval, or permits, such as:
removing woody debris from the stream while you are standing on or in the stream as long as you are not digging into the streambed
planting trees and cutting trees off at the stump but keeping the stumps to help stabilize the bank.
For more substantial activities in and around streams, a property owner should first contact the Conservation District or DEP. Activities that may require pre-approvals, authorizations, or permits include:
streambank stabilization projects
removing gravel bars from the stream with heavy equipment
repairing or building a bridge or culvert
redirecting stream flow
dredging or damming streams
moving (relocating) a stream
Contact the Conservation District
Stream work that is not property designed and permitted can cause flooding conditions to worsen and impact downstream neighbors. When in doubt, the first step should always be to contact your local Conservation District, where technical staff can assist with the project.
In addition, DEP has developed a simple guide to understanding what is required of those who want to work in or adjacent to streams. Download the booklet here.