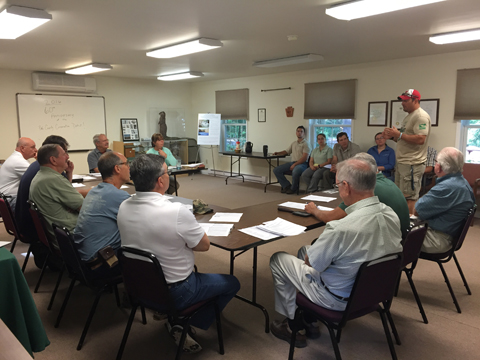 Board of Directors Meetings for 2019
Pike County Conservation District Board of Directors meetings for 2019 are scheduled as follows:
January 22 2019 – Reorganization and Regular Meeting, Regular meetings – February 19, March 18, April 15, May 20, June 17, July 15, August 19, September 16, October 21, November 18 and December 16, 2019.
All meetings start at 9:00am and are held at the Pike County Conservation District Office, 556 Route 402, Blooming Grove. In the event of a meeting cancellation, meetings may be held on the day immediately following the scheduled meeting date. The public is welcome to attend.
Chris Ingulli
Board Secretary
Mission
Pike County Conservation District (PCCD) is committed to natural resources conservation through leadership, education, technical assistance, planning and enforcement to ensure the long term protection and sustainable use of Pike County's natural resources and implementation of environmentally sound development and land use practices.
Board Vision
Pike County Conservation District will be a recognized and respected leader in fostering a conservation ethic among government officials, non-governmental groups, the development community, community associations, land owners and the general public resulting in conservation of the integrity of the natural systems that enrich Pike County's environment.
Conservation District
Pike County Conservation District was established in 1956 by the Pike County Board of Commissioners and has worked actively since then to carry out programs focused on conservation of soil, water and natural resources. The District is governed by a Board of Directors who meet monthly to help plan programs, guide staff and coordinate efforts which provide conservation assistance and education in Pike County. District staff provide technical assistance for residents on natural resource and watershed conservation, groundwater protections, grant writing, and program administration.