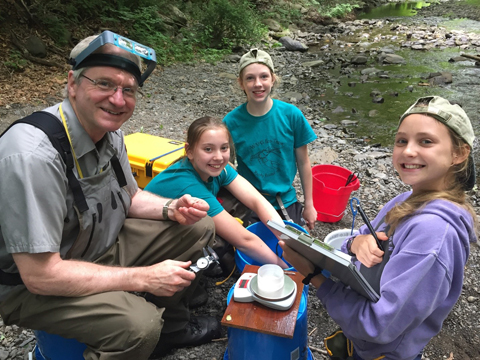 PCCD Supports Rusty Crayfish Project
A Pike County Conservation District (PCCD) $500 Environmental Education Grant recently supported an invasive species sampling project conducted by students in the Wallenpaupack High School Environmental Club. The grant helped to purchase project equipment.
Under the guidance of Wallenpaupack Biology teacher Linda Lohner and Ecologist Richard Evans of the National Park Service, the students searched for rusty crayfish on the Pennsylvania side of the Delaware Water Gap National Recreation Area (DWGNRA). The large, aggressive species of freshwater crayfish had been found on the New Jersey side in 2015.
What's a Rusty Crayfish?
The rusty crayfish is native to the Ohio River Basin, but was introduced to new areas by fishermen using them as bait. As its range rapidly expands in North America, the rusty crayfish is displacing native species, such as our common brook crayfish and spiny cheeked crayfish.
During their summer break, the Wallenpaupack students sampled 26 sites and logged 580 hours on their project. Of 620 crayfish captured, none were identified as rusty crayfish.
"Engaging in a real research project – working with scientists and collecting real data – is a great experience for students," says Lohner. "You can't learn what field work is like in a classroom or from a book."
The Wallenpaupack students presented project highlights to members of the PCCD Board of Directors on September 17.
Useful Data
Ecologist Evans shared the students' data with scientists at the Pennsylvania Fish & Boat Commission, the Academy of Natural Sciences at Drexel University, and Delaware Riverkeeper.
"We are so proud of these young researchers," said PCCD Executive Director Michele Long. "They gained valuable experience and skills, and contributed to data that can help to stop the rusty crayfish from further impacting our native species and local waters."
Top Photo: Wallenpaupack students assist National Park Service Ecologist Richard Evans with crayfish data collection at Tom's Creek in Delaware Water Gap National Recreation Area. Students, from left to right, are: Jillian Tait, Paulina Schmidt, and Marlee Olsson.