Updated as of June 2022
The statewide spongy moth program that had been in place for years with the state of Pennsylvania has not been funded since 2017. Since that time, the recommendation from the Pennsylvania Department of Conservation and Natural Resources (DCNR) Division of Forest Pest Management is to contact aerial sprayers directly to coordinate identification and the potential need for a spray program on private property. In the last year, there have been reports of sightings and complaints in Pike County which indicates that numbers of egg masses and/or caterpillars increased in 2022. The Pike County Conservation District (District) provides information on the District website on how to identify, manage them on your property, a listing of aerial sprayers as well as additional resources for landowners. The District and DCNR recommend that you coordinate with your neighbors or community association in identifying an aerial sprayer and working with them to determine if an application of spray is needed for the spring of 2023. By working with a large group of landowners the cost of a spray program could be significantly lower.
Contact Community Association representative for concerns about them in your area.
Contact a sprayer/forester for assessment as early as possible.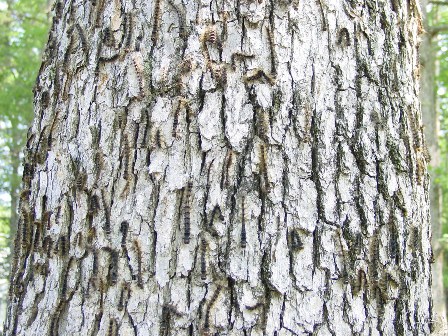 Related Info:
What Can We Do About the Spongy Moth Outbreak
Tent Caterpillar vs. Spongy Moth
Early Life Cycle of the Spongy Moth
Homeowners Guide to Spongy Moth Management
Entomological Notes on Spongy Moth
Bt Insecticide Information Bulletin
Spongy Moth Aerial Sprayers List
DCNR Fall 2022 Newsletter (maps)