98% of the population in Pike County relies on groundwater for their drinking water source.
Groundwater is water at one stage of the water (hydrologic) cycle. The water in the cycle which filters through the soil and is not taken in by plants (and then transpired into the atmosphere) becomes groundwater.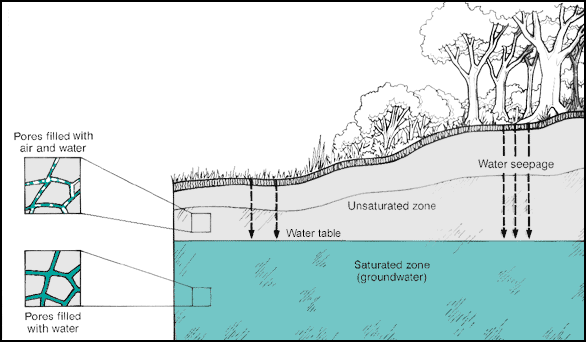 Water filtering through the soil moves first through an unsaturated zone where spaces (pores) between soil particles or rocks contain both air and water.
The water is pulled by gravity in a generally downward path and eventually reaches an area of soil and rock where the spaces (pores) are completely filled with water. This is called the saturated zone or "groundwater." The top of this zone of saturation is called the water table.
Groundwater Movement through the water cycle
Groundwater, like surface water, is constantly moving. However, groundwater moves much slower – at rates ranging from feet per day to inches per year depending on the type of soil and rock through which it is moving.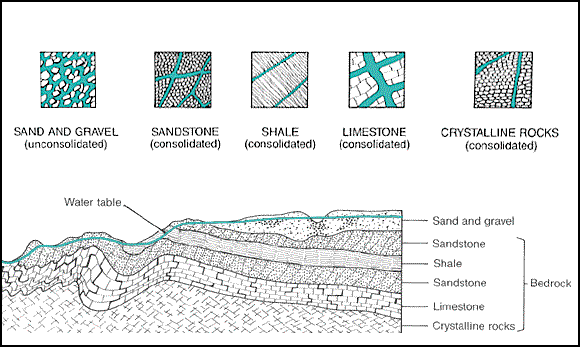 The natural movement of groundwater is from upland recharge areas to lowland discharge areas. Discharge areas are areas where the water table meets the land surface such as springs, lakes, streams, wetlands. Most water seeping into the soil moves only a few miles to the point where it is discharged; in most instances it stays within the same watershed.
Groundwater discharging into streams provides the water which keeps streams flowing year round and particularly in drought periods. Except for a short time during and after rain storms and snow melt, all the water in a stream is provided by groundwater seeping through stream banks and stream beds. This is called base flow.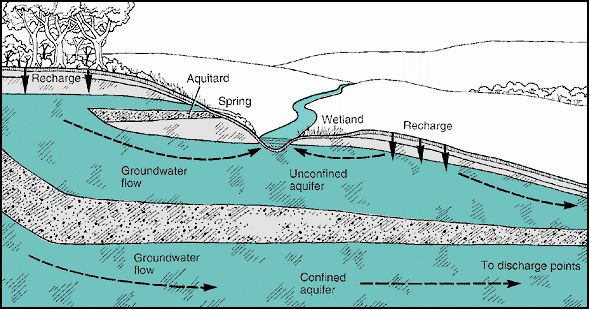 Surface Water
Water in the cycle which falls as precipitation and which does not infiltrate back into the soil and eventually become part of the groundwater table runs across the surface of the land. This water flows into surface water catchments called lakes, streams, and wetlands.